View this message on our website

National Adopt a Shelter Pet Day!
National Adopt a Shelter Pet Day is this Saturday! Did you know that ACC currently has almost 200 boroughbreds looking for forever homes? In this edition of the Boroughbred Bulletin, we would love to feature some of our amazing animals!
An ACC volunteer writes: Ok, I'm a sucker for these senior dogs. Of course, they are all wonderful. But let me tell you about Molly. This 11-year-old is exceptional! She is sweet and gentle as can be. Molly is personality plus! She is energetic and great on a walk. Her tail is always wagging and she's very social wanting to greet everybody in our path. Molly just seems happy. You can meet her at Manhattan ACC. Click here for more info about Molly!
An ACC volunteer writes: Nino is an exceptionally well mannered and affectionate gentleman who loves to nuzzle into new friends. He is delighted to greet visitors to his condo and happily bounces up from his nap and quietly purrs while you pet him. This sweet natured guy brings cheer and joy wherever he goes. Click here for more info about Nino!
ACC is on the road! Stop by our upcoming Mobile Adoption Event at the Maspeth Federal Savings Street Fair and adopt your new best buddy!

Saturday, April 30 (12pm - 4pm)
Maspeth Federal Street Fair
56-18 69th Street, Maspeth, NY 11378 (On Grand Ave)

For more info and a list of all upcoming adoption events, visit nycacc.org/adoptionevents.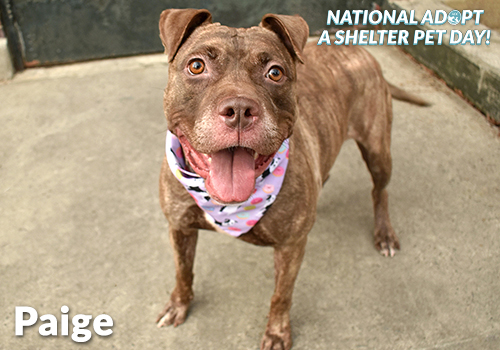 A volunteer writes: Beautiful Paige seems both wise beyond her years and a playful puppy at heart, her 'old soul' eyes begging for just one more toss of the ball every time we play fetch in the yard. She's ready to be whatever you're looking for in a pet, equal parts affectionate and stubborn and as keen to explore the wider world as she is to stay home for snuggles on the couch. Give this sweet gal a chance and Paige will make sure you always have a loyal friend by your side. Click here for more info about Paige!