View this message on our website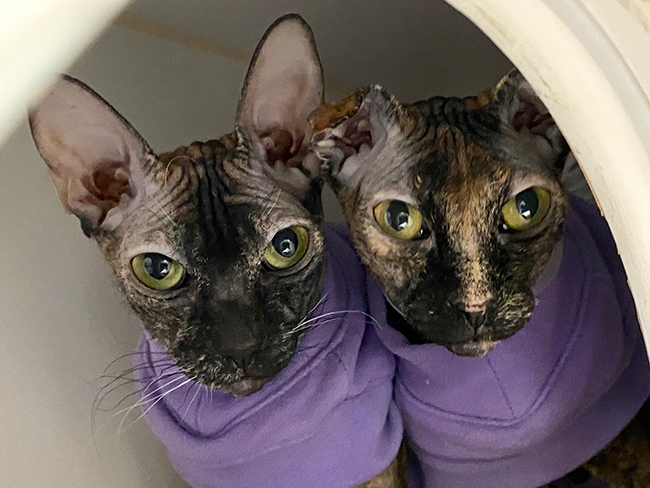 Bagheera and Bellatrix are looking for a home together! These 2 sweater-clad beauties are 10-months old, super playful, and are waiting for their new forever home at Manhattan ACC. They are looking for someone who has experience with hairless breeds (they are Ukrainian Levkoys!).
Bagheera and Bellatrix have a combined adoption fee of $400. If you are interested, visit the links below to submit an adoption application!
Snow day? Sno' problem for Manhattan ACC's boroughbreds! Sunday's flurries led to some fun in the Manhattan ACC play yard and Tom Nook, Kimberly, Henessey, and Axel had a blast playing with their new frosty friend. They are all still waiting patiently, visit their profiles for more info!

Some of us don't mind being single, in fact, some of us prefer it! The same can hold true of dogs in the shelter. There are some dogs (who we call boroughbreds) that want to be the only pup in the household. These dogs are great with their humans and have all the love in the world to give to you. In celebration of these boroughbreds we are running a special promotion throughout February called "Single and Lovin' it" where we waive adoption fees for the dogs in our care centers who prefer to be your one and only.
View the candidates at nycacc.org/SingleLife!

ACC is back on the road! Saturday at 1pm head to MCC Theater in Manhattan for an ACC Mobile Adoption Event with and adopt your new best buddy! For more info, directions, and a list of all upcoming events, visit nycacc.org/adoptionevents.
Saturday, February 19, 2022 (1pm - 5pm)
MCC Theater
511 W 52nd Street, New York, NY, 10019
Have you adopted from ACC? Send your #BoroughbredLoveStory to socialmedia@nycacc.org and help promote adoption awareness!