View this message on our website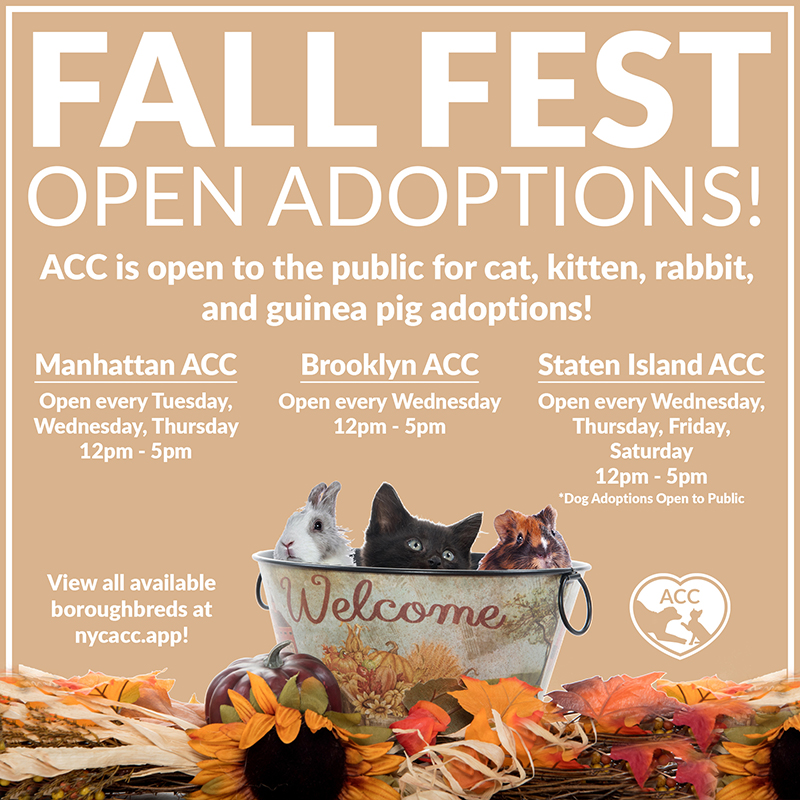 🍂 Introducing Fall Fest 🍂
🐱🐰🐹 Click here to view all available boroughbreds! 🐱🐰🐹
Click here for Care Center locations.

Evan Bisnauth, ACC's very own Junior Volunteer and ASPCA Kid of the Year, was featured on the Today Show for his dedication to shelter dogs! As part of our Junior Volunteer Program, Evan helps socialize shelter dogs by reading to them!

📚🐶 Click here to read the full article 🐶📚
Have you adopted from ACC? Send your #BoroughbredLoveStory to socialmedia@nycacc.org and help promote adoption awareness!

Check out the Community Report for Q3 of 2021!
🐶🐱🐰🐹
❤️New Hope Partners, Adopters, Volunteers, Fosters & Incredible ACC staff❤️

November is #AdoptaSeniorPetMonth and ACC wants to share some Senior Boroughbred Love Stories. Our hope is that showcasing the benefits of adopting a senior dog or cat will inspire others to give some older pets a home! Please email socialmedia@nycacc.org and let us know about your senior pet and the love they have brought to your life. NY1 will be interviewing some adopters so please let us know if you are open to being profiled on NY1!

This Saturday at noon head to Petco Jackson Heights in Queens for an ACC Mobile Adoption Event with and adopt your new best buddy!

Saturday, October 30, 12pm - 4 pm
Petco Jackson Heights
7507 31st Avenue, Jackson Heights, NY 11370

Click here for more info, directions, and a list of all upcoming events.