View this message on our website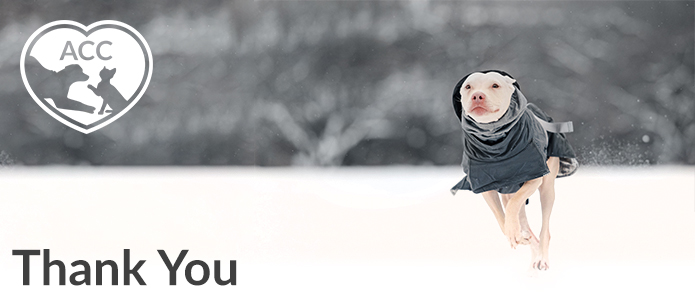 As the year draws to a close, Animal Care Centers of NYC (ACC) has so much to be thankful for. Adopters, fosters, volunteers, donors, and New Hope partners have all gone above and beyond in these unprecedented times.

Thank you to all of our adopters for stepping up and giving our boroughbreds such wonderful homes this year!

When the pandemic started, we asked New York for help. We had hundreds of animals in our care and the city was shutting down. We put out a plea asking for 200 emergency fosters... and within a week we had almost 4,000 responses! But that's not all, 30% of our fosters decided that their foster pet was part of their family and ended up adopting!

ACC is forever grateful for our incredible volunteers! Even during the peak of the shutdown, our volunteers were still asking when they could return to help our boroughbreds in need. Some even found other ways to help - like picking up trash and cleaning the streets around Brooklyn ACC! Once our volunteers were able to return, they proceeded to showcase our animals with amazing photos, videos, and bios. A special thank you to our Operational Forces volunteer team for logging in 90 hours helping animal care staff!

Our New Hope partners stepped up like never before during 2020, helping NYC's boroughbreds during these tough times. Jamie the kitten, for example, had swallowed a fish hook and required surgery. Louie's Legacy came right away, brought the kitten to an emergency veterinary hospital and now she is doing great! This is just one of the countless examples of our New Hope partners' dedication to the animals of NYC.

Your financial support this year was significant and greatly appreciated! We broke our #GivingTuesday record and had an extremely successful Virtual Boroughbred Ball, hosted by the incredible Joe Gatto! Thank you all for your continued support!
From all of us at ACC, thank you and happy holidays!