View this message on our website


Finally... a message everyone can get behind!! Help NYC boroughbreds win their Race to the Right House this election season and Elect to Adopt! While supplies last, all adopters will receive a $50 Petco gift card! View all candidates at nycacc.app!
Tom Cat set to be Reunited with Family After Daring Escape from Burning Building

We have an incredible story and some great news to share on this #NationalCatDay! You've almost certainly seen the footage of a cat desperately jumping from a 2nd story window as the apartment behind him was consumed by flames. After Tom Cat landed from his leap-of-faith, he was recovered by the NYPD and found his way to Manhattan ACC. Thankfully, it was discovered that Tom Cat only suffered minor injuries after a check-up with our Veterinary Team! As you can see, he is feeling great! Tom Cat is eager to interact with staff members and volunteers and happily plays with his toys despite the traumatizing ordeal he went through. We have even more good news to share and are excited to announce that Tom Cat will be reunited with his family this weekend!

Considering homemade meals for your dog? Learn from the experts how to create nutritionally appropriate and delicious meals for your pet with a virtual cooking class, featuring superstar Chef Adam Goldgell. You may recognize Chef Adam Goldgell from his appearances on The Food Network's popular competition shows Chopped and Restaurant Express.

How does 'Canine Cuisine' work? It's simple! Just register and pay online, then you will receive an emailed list of ingredients to buy in advance. Watch the preparation live on November 5th, where Adam will host along with a veterinarian to talk about pet health while they instruct on meal prep!

A portion of all proceeds will be donated to ACC! Register online at bit.ly/CanineCuisineACC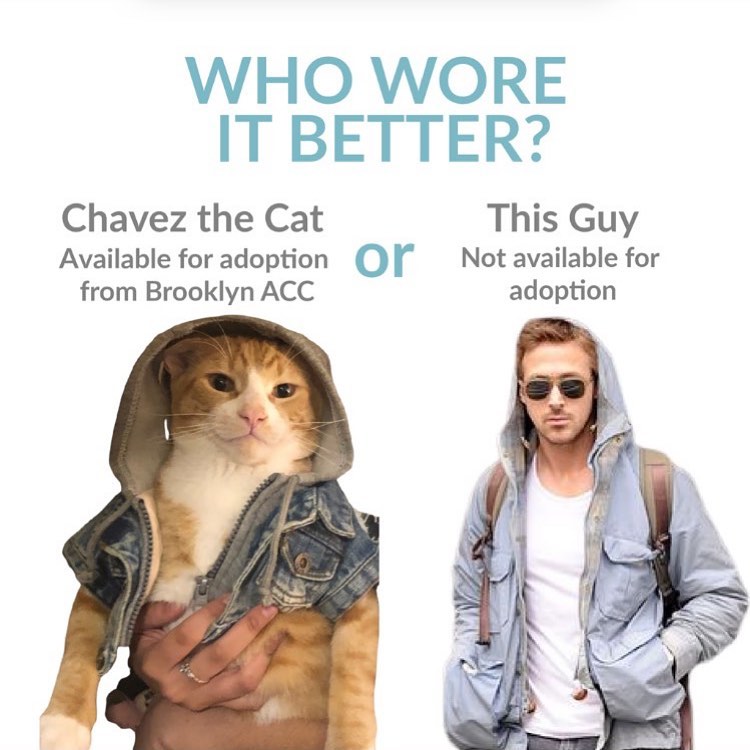 It's hard to compete against a national treasure like Ryan Gosling. But if anyone can it's Chavez! Chavez came to us because his owner developed allergies that were more pronounced since she has been working from home. She tried everything but couldn't stop the sneeze. Chavez is three years old, completely housebroken, neutered and weighing in at about 12 pounds. He is affectionate as he is gorgeous - which is to say VERY CUDDLY.
Click here to view Chavez's profile! Make an appointment to come in to our Brooklyn shelter to meet this guy. He is sure to be scooped up soon! Also available to foster :)
Have you adopted from ACC? Share your Happy Tail to socialmedia@nycacc.org and help promote adoption awareness!