View this message on our website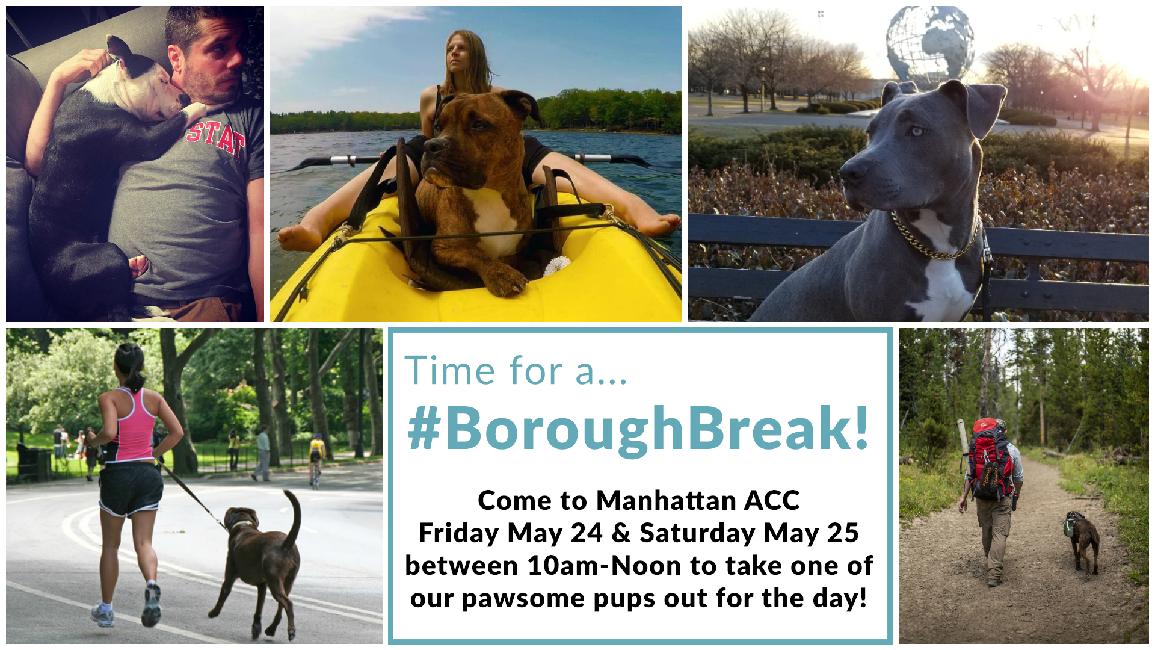 Animal Care Centers of NYC (ACC) is proud to announce its new 'BoroughBreak' program, which pairs members of the community with shelter dogs for field trips. Outings can last from one hour to all day and can include a hike, a trip to the beach, a fun car ride, a long nap in a home or even a nice dinner in a pet-friendly restaurant. Whether you already have a dog or aren't ready to have one, it's a great way to get your pet fix in.
"Even with all of the enrichment we provide to the dogs in our care, living in a shelter can be super stressful," said ACC Foster Manager, Sonja Gorzkowska. "By encouraging the community to spend even just a few hours hanging out with an awesome dog, they can make a huge difference in the life of that pet." ACC will be part of a study sponsored by Maddie's Fund to see if dogs have a higher chance of being adopted if they get chances like this to go out.
Participants are not required to have any prior canine-handling experience. Leashes, dog collars, and treats will be provided by ACC. Those interested in getting involved with 'ACC BoroughBreaks' can visit Manhattan ACC located at 326 East 110th Streed anytime between 10am-Noon. Head to our website's homepage for more info and to fill our BoroughBreak foster form!
Similar programs across the country have been enormously successful and ACC is excited to introduce this to the New York City community.
Nick was missing, and his owner arrived at Brooklyn ACC to see if he was in our care. She was having a rough week as a friend had passed away, and just when she thought things were bad, it got worse -- Nick went missing. Luckily, a good samaritan was walking her dog and found Nick! She then made a 'found animal report' on our website. Nick had been missing for 2 days when his owner came in and reported her pet lost. The ACC employee helping her had done the lost and found check earlier in the day and recognized Nick in the lost dog flyer immediately and contacted the finder. Nick's owner and finder met in our lobby and exchanged tears of joy and a hug.
⠀
If you ever have a pet go missing or find a pet that is lost, please register them on our lost and found webpage -- it could help them find their way home!
| | | |
| --- | --- | --- |
| | | There is a towel shortage at ACC and we are in desperate need of more. Please donate towels and help a boroughbred in need. Specifically, bath towels are the size we need the most. We have updated our Amazon Wish List to include towels! |
Join The Movement.
End Animal Homelessness In NYC