AC&C Participates in Just One Day
On June 11, AC&C joined animal shelters across the nation participating in the

Just One Day

event, which encourages shelters to suspend euthanasia on that day. Adoption hours were extended, adoption fees were reduced, our Mobile Adoption Center was open, and there was no at-risk list the evening of June 10 and no euthanasia on June 11

.
Learn more »
Maddie's Pet Adoption Days 2014

We were thrilled to be a part of this annual event sponsored by Maddie's Fund and the Mayor's Alliance for NYC's Animals. It was an amazing celebration of NYC animals and the love and joy they can bring to families of all sizes. During the course of the May 31-June 1 event, AC&C placed more than 100 animals into loving homes.

Learn more »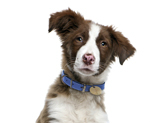 Licensing Progress
The New York State legislature has passed a bill that gives NYC the ability to set its own dog licensing fee and make it easier for guardians to obtain licenses for their dogs. Learn more »
Happy Tail: Bebo

A year ago, on June 29, we celebrated the launch of our redesigned adoption program, featuring dedicated adoption counselors and a smoother adoption process. We've received many updates, including this recent one on Bebo.
Learn more »
AC&C's June Board Meeting
If you missed our June 19 board meeting, you can view the slides online or watch the video.